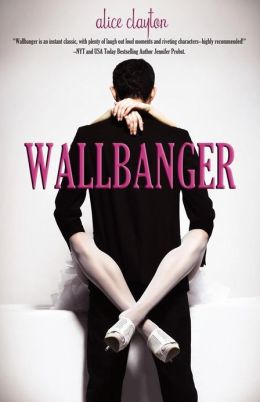 Title: Wallbanger
Author: Alice Clayton
Publisher: Omnific Publishing; 1st edition (November 25, 2012)
Length: 302 pages
Format: ebook (Kindle)
Description from Goodreads:
Caroline Reynolds has a fantastic new apartment in San Francisco, a KitchenAid mixer, and no O (and we're not talking Oprah here, folks). She has a flourishing design career, an office overlooking the bay, a killer zucchini bread recipe, and no O. She has Clive (the best cat ever), great friends, a great rack, and no O.

Adding insult to O-less, since her move, she has an oversexed neighbor with the loudest late-night wallbanging she's ever heard. Each moan, spank, and–was that a meow?–punctuates the fact that not only is she losing sleep, she still has, yep, you guessed it, no O.

Enter Simon Parker. (No, really, Simon, please enter.) When the wallbanging threatens to literally bounce her out of bed, Caroline, clad in sexual frustration and a pink baby-doll nightie, confronts her heard-but-never-seen neighbor. Their late-night hallway encounter has, well, mixed results. Ahem. With walls this thin, the tension's gonna be thick…

In her third novel, Alice Clayton returns to dish her trademark mix of silly and steamy. Banter, barbs, and strutting pussycats, plus the sexiest apple pie ever made, are dunked in a hot tub and set against the gorgeous San Francisco skyline in this hot and hilarious tale of exasperation at first sight.
My Thoughts:
If you are in the mood for a hilariously funny and seriously sexy book, then look no further than Wallbanger by Alice Clayton. Poor Caroline has been in somewhat of a dry spell for a while now. Her "O" has fled the building in the wake of a horrific one night stand and has yet to return. At least she has her amazing new apartment to focus on. Too bad she can't relax because she shares a wall with a sexy nympho dubbed the "Wallbanger". Can Caroline and her sexy man whore of a neighbor, Simon, get along? Will Caroline finally be able to sleep? Will Simon be the one to bring "O" back home or is she gone forever?
Caroline is an amazing character. She is smart, sexy, successful, funny, loving, and loyal. The all around modern woman. Everything is going right with the exception of her love life. Enter in Wallbanger a.k.a. Simon, the next door neighbor with a sex life enough for the both of them. Simon is talented, sexy as hell, and has a harem of women at his beck and call. Both of these characters have had problems with past relationships and are dealing in different ways. They make mistakes, are tentative, bold, and have a surprisingly realistically progressive relationship. Wallbanger is their journey from lustful loathing, to lustful friendship, to possibly what both of them have been looking for.
Caroline and Simon add humor and sexiness to Wallbanger and it was fun watching their characters grow. That being said, another character stole the show and that was...Clive the cat. I am not a cat person, but I want a Clive. he was generally snarky and mean, yet overprotective and loving in the right places. There is a"bonus" at the back of the book and had me laughing so hard that tears were pouring down my face! Clive is the best!
Last but not least is the level of "hotness" in Wallbanger. From the title and picture I was expecting a lot of detailed sex scenes and a little bit of dirtiness. I was pleasantly surprised! Everything was mild and tasteful ( in my opinion) and not overly done. Wallbanger by Alice Clayton is a cute, smart, fun, and sexy read. I recommend it if you are in the mood for a good contemporary love story. I give this book a
4 1/2 STAR
rating.